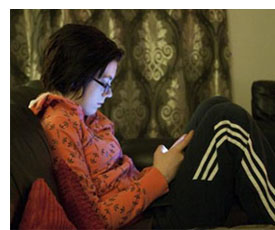 The list of popular sites is constantly evolving, and keeping an eye on this evolution is part of our mission. Here is a list of some of the current popular social media/ messaging sites where you may have an account:
Facebook.com
Google+.com (pronounced and sometimes written as Google Plus)
Youtube.com
Twitter.com
Instagram.com
Tumblr.com
Kik.com, Vozer.com, WhatsApp.com are all variations on the same theme: Free phone-to-phone messaging.
Snapchat.com
Vine.co video app purchase by Twitter.com - used primarily on cell phones.
You may be using one, some, or all of these sites or apps. It's important to remember that they're not intrinsically bad in any way. But the potential for misuse and abuse is always there, especially when there is a public-facing profile that can be viewed and contacted by anyone on the Internet.
A recent report by the Pew Internet and the American Life Project found 91% of the 12-to-17-year-olds it surveyed post photos of themselves (up from 79% in the last such survey, in 2006) and 24% post videos. Another 91% are happy posting their real name, 60% their relationship status, 82% their birthday, 71% the town where they live and the school they attend, 53% their email address and 20% their mobile number (compared with 2% in 2006). These numbers are slightly higher for adults 18-35.